AIPUR: The Union ministry of education on Sunday released the third edition of Performance Grading Index (PGI) 2019-20 in which Rajasthan got Grade1+ i.e., level 3. Compared to last year, the state has improved its performance significantly.
The PGI is a tool to provide insights on the status of school education in states and Union Territories.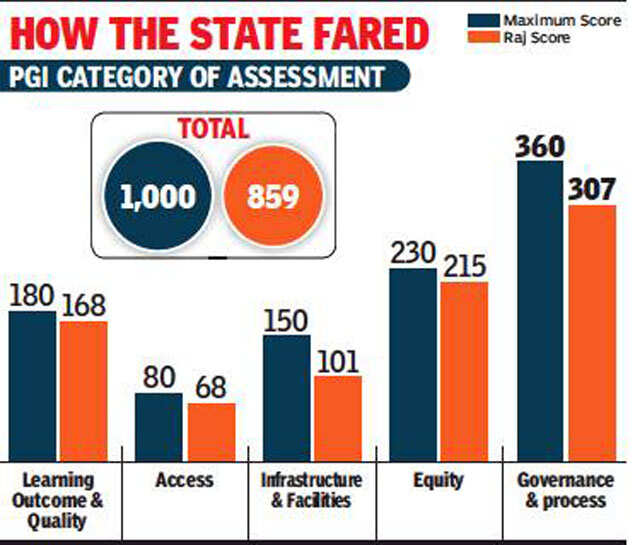 Learning Outcome & Quality
Access
Infrastructure & Facility
Equity
Governance and process
180
168
80
60
150
101
230
215
360
307
Rajasthan scored between 851-900 points in 2019-20 PGI, which is a significant improvement from the last two indices where state scored 751-800. The central government introduced the Performance Grading Index (PGI) with a set of 70 parameters to catalyse transformational change in the field of school education.

The PGI for states and Union Territories was first published in 2019 with reference year 2017-18. The PGI exercise envisages that the index would propel states and UTs towards undertaking multi-pronged interventions that will bring about the much-desired optimal school education outcomes.
Rajasthan's better performance his year can be attributed to the focus given on the access, infrastructure and other facilities. School education expert K B Kothari said this is good news for the state that we have performed well over the years.

"The government has focussed on school education with new policies working in different sector and this index is the result of that. I hope we will further improve," Kothari said.
There is, however, an expectation that the next PGI report will not be favourable to Rajasthan or any state due to the impact of pandemic. Kothari said that learning outcomes have suffered in the country due to no physical classes and promotion of students amidst pandemic.

He explained, "Around 40% children have no access to internet facilities. In rural areas of the state, situation is even more severe. Although the government has started various schemes, but without any classes for over a year education will suffer, especially in primary classes. We need to start working on how to improve the learning outcome of schools during pandemic."

The PGI this time is structured in two categories, namely, Outcomes and Governance & Management and comprises 70 indicators in aggregate with a total weightage of 1,000 points. Punjab, Chandigarh, Tamil Nadu, Andaman & Nicobar Islands and Kerala occupy the highest grade (Grade A++) for 2019-20. Although, no state was able to reach the perfect Level 1 after scoring 951-1,000 score.